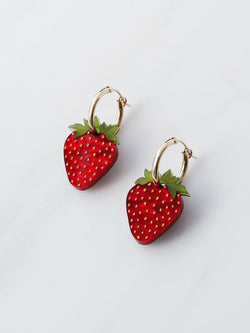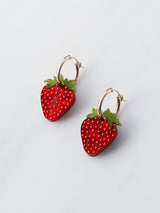 Wolf & Moon
Strawberry Hoops
Our bestselling strawberry earrings made from acrylic and wood with 14k gold-filled hoops. 
Fun, fruity design

Hand-inked detail

Great for layering

14k gold-filled hoops - can be worn separately 

Super comfy & easy to put on

Lightweight 

FSC approved wood

Made in England

Beautifully handcrafted

W&M organic cotton gift pouch

 
Hoop earrings made with acrylic and FSC approved birch wood.
19mm 14k gold-filled hoops.
Each pendant is 2.7cm x 2cm with a weight of 2.1g with hoop, 1.5g without hoop.
What is 'gold-filled'?
Gold-filled is a thick layer of gold mechanically bonded over jewellers' brass.  It is a high quality and affordable alternative to solid gold.  Gold-filled is thicker and much more hard wearing than gold-plating, and can last 10+ years with daily wear.