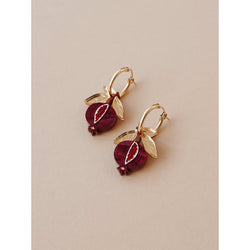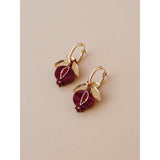 Wolf & Moon
Pomegranate Hoops
Pomegranate hoop earrings with gold mirror, burgundy and red marbled acrylics with hand inked details. 

An intricate addition to our Garden collection, perfect for layering.
Fun, fruity design
Hand-inked detail
Great for layering
14k gold-filled hoops - can be worn separately
Super comfy & easy to put on
Lightweight
FSC approved wood
Made in England
Beautifully handcrafted
W&M organic cotton gift pouch
Designed & handmade in our North London studio.

Details
Hoop earrings made with acrylic and FSC approved birch wood.
19mm 14k gold-filled hoops.
Each pendant is 2.8cm x 2.4cm with a weight of 2g with hoop, 1.4g without hoop.