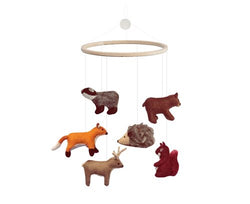 Such a cute and beautiful mobile with forrest animals. The mobile is wrapped beautifully with cute ribbon - perfect gift to a baby shower, birthday or as a maternity gift.
Product:
The product is handmade - each product is therefore unique and small variations in shape should be expected.
Material:
The product is made of wool which comes from New Zealand. The filling is recycled polyester.
Measures:
Diameter: 20 cm
Height: 50 cm