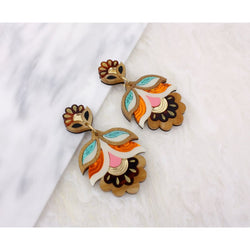 Rosa Pietsch
Flora Earrings
The Flora Earrings are true statement earrings - large and eye-catching, but made using a thin plywood base to make them far lighter than they look! The design uses motifs from the Flora Garland statement necklaces; intricately drawn florals, laser-cut from a mix of acrylics.
The original floral design is laser-cut and engraved from a variety of different acrylic colours, before being delicately crafted by hand onto a thin plywood base. Details are etched and hand-inked into the acrylic. The floral design hangs from a gold or silver-plated earring component with a lever-back clasp fastening, making them easy to put on and very difficult to lose! The thin plywood base makes the earrings light as a feather.

Designs are laser engraved, etched and inked by hand, creating an abundance of detail and texture. Throughout the collection you'll spot plenty of shimmery, marbled acrylic; the irregular swirls of colour mean that each piece is slightly different from the next. Each item is handmade to order, and available in a wide variety of colour combinations to suit everyone.

Dimensions 

Stud size at widest points: Approx 2cm x 2cm
Drop size at widest points: Approx 4cm x 4.5cm
Total length from top of stud to bottom of drop earring: Approx 7cm