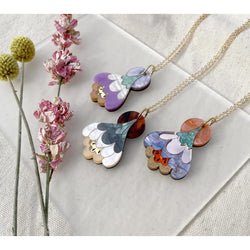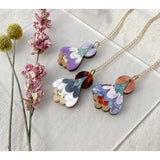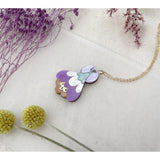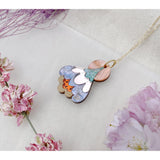 Rosa Pietsch
Crocus Flower Pendant
The Crocus collection was inspired by the vibrant colours and flowing shapes of beautiful Crocus flowers emerging in early spring. As the designs developed, they began to take on a very Art Nouveau feel!
The curved petal shapes are cut from luxurious hand-marbled acrylics, and highlighted with delicate laser-engraving. Flashes of etched and hand-inked mirror acrylic add dimension and texture.
The Crocus Pendant necklace is available in three colour combinations: Pearl, Purple or Rose.
Pearl: shimmery pearl marble, with slate, mint and caramel marble and rose gold mirror.
Purple: rich marbled purple, alongside lilac, pearl, mint and caramel marble.
Rose: beautiful swirls of rose pink & purple marble, with orangey-peach glitter marble, pearl marble, gold glitter and rose gold mirror.
The laser-cut acrylics are backed onto lightweight thin plywood, and the pendant hangs from a 45cm fine gold-plated necklace chain.
*Please note, due to the nature of the hand-cast marbled acrylic, colours and pattern will vary to product photographs*
- Dimensions -
Pendant size at widest points: 5.5cm x 5.5cm.
Chain length: 45cm with 5cxm extension chain.