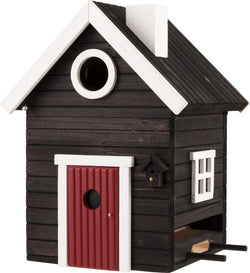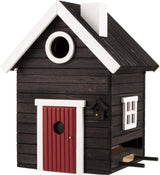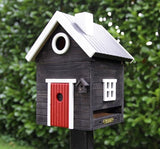 Wildlife Garden
Bird Feeder Bird House - Black
Multiholk is a bird feeder and nesting box combined in  a form inspired by traditional Swedish cottages and architecture. Designed in conjunction with ornithological experts the result is a handcrafted product constructed is solid wood from well managed forests and finished with environmentally friendly paints.
Feeding slots in the bottom of the house allow small birds to easily access food while keeping seed protected from the elements, droppings and large birds.
During breeding season the Multiholk can be converted into a nesting box.
Product Details
Dimensions: 184 x 194 x 247mm
Weight: 1kg
Material: Solid Wood
Capacity: 2 litres of feed
Accessories: Wall bracket and screws, wooden perches